Selecting a topper
Selecting the perfect topper can seem daunting, however we have several articles in our blog with videos stepping you through everything form topper size, colour an application.
The first step is determining your ideal topper size. Topper size refers to the sizeof the base and hence the amount of coverage each size provides. Generally you need the topper to cover about a few centimetres more than the area you need to cover. This is so that the topper isn't clipped into thin hair which will add undue tension on that hair and cause further hair loss.
Topper Sizes are divided into three categories, Beginning Stage, Mid Stage and Progressive Stage. There is a Topper Chart below and links that will take you to the available styles of each stage for both Human Hair and Synthetic Fibres
Secondly you need to decide what length you need, which will depend on your current hair length or a longer length you are trying to achieve. Topper lengths range from 8 inch (approx. 20cm) up to 12 inches with a fe as long as 16 – 18 inches (approx. 40 – 45cm)
Colour is an easier decision as you want the topper to blend in with your own hair colour – toppers can be a great help when you can't get to your hairdresser to have a colour reapplied.
Style is also a consideration as Heat Defiant (HD) synthetic fibres and Human Hair can be styled (curled or straightened) with heat tools. However Standard Synthetic Fibre can NOT have heat applied. So if selecting Standard Synthetic Fibre, you need to make sure it is already in the style you want.
Finally you need to decide whether you want Standard Synthetic, Heat Defiant Synthetic or Human Hair – there are pros and cons of each with regards so styling, feel, care and cost.
Below are a few links to those pages to help you get started.
Human Hair V's Synthetic Fibres
Care Information
BEGINNING STAGE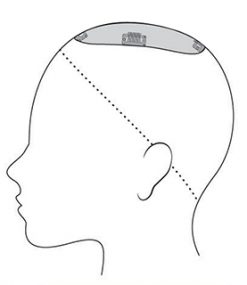 Small Base Hairline Topper
Hairline/Fringe Coverage
Only 2″-5″ Base
MID STAGE
Medium Base Hairline Topper
Hairline/Part Coverage
Only
5″-7″ Base
PROGRESSIVE STAGE
Large Base Hairline Topper
Full Coverage Only
7″ or Larger Base
SYNTHETIC & HD FIBRE TOPPERS