Jon Renau's Collection launches are always exciting and the 2019 Spring Collection is no exception. Here we have a quick rundown of what we can expect. 2019 Spring Collection is made up of 4 new wigs and 1 new petite wig.
This Collection is inspired from warm Californian days and cool evenings. The Four new wigs Rose, Kaia, Kendall and Gabrielle are easy styles you can transition from day to night. Rose gives is a short layered crop style, Kaia has long cascading layers, Kendall showcases shoulder length waves and Gabrielle gives you a posh jaw length bobs.
Embodying easy-care technology, each of these looks combines a nearly invisible SmartLace hairline and translucent monofilament cap with advanced synthetic fibres for a supremely natural fit and feel. The 2019 Spring Collection sets the tone for a season of adventurous flexibility with minimal fuss.
Pre orders have started and we will be getting these first orders in by April 8th.  If you don't want to miss out order today.
At a glance this is what you can see in the new range by Jon Renau.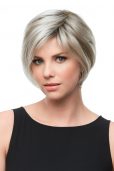 1. 100% Handtied
2. Smart Lace front
3.Single Monofiliament Top
4. Available in Average and petite
1.Smart Lace Front
2. Single Monofiliament top
3. Wefted Back
4. Average Size
1.Smart Lace Front
2.Single Monofiliament
3.100% Hand tied
4. Average size
Rose 
1.Smart Lace Front
2.Single Monofiliament
3.100% Hand tied
4. Average size